Technicals Levels
These simple tables should be of help in deciding on what your effective level of technical competence is in mountaineering and ski-mountaineering. Many of you will probably find them useless and/or incomplete, but our aim is to help enthusiasts to understand in what areas they feel technically independent and where, on the other hand, they may need more instruction in order to improve. An area dealing with personal experience is evidently missing here, but being so subjective it cannot be listed. Please bear in mind, however, that technique alone in the mountains is not sufficient to guarantee you safe mountaineering outings. In reality, there's a whole lot of knowledge that one acquires only by being continuous in these sports and, in particular, by being with experts who will teach you. The programmes matched with the levels of competence have been specifically devised so that participants can improve and acquire a higher level of technical competence, in a gradual and regular manner. These are just a few of the options available with Horizon Montagne. We are open to any suggestions or proposals, however, that may satisfy your aspirations. Now take a look at your level of technical competence….
Off Piste – Ski Mountaineering ability levels
Level 1 – Intermediate Piste Skier. Ski blues and reds at a good pace, but icy black runs and moguls are something of a survival zone. On forays off piste you generally struggle to stay upright!
Like ly to say:'I want to ski black runs well + start off piste skiing'.
Our Advice:Take a couple more ski holidays and get some private tuition in modern carving technique or intro off piste skiing before joining a full blown off piste coaching course or a ski touring course – you've got to have the foundations in place first
Level 2 – Intro Off Piste Skier.(Advanced Piste Skier) Cruise reds, black runs are challenging but fun and have ventured off piste with varying degrees of success (ie deep snow is still something of a mystery…).
Like ly to say:'I'd love to learn how to ski well off piste and/or try ski touring'.
Our Advice:Definitely go on an Off Piste Skiing Course to improve your ski technique first, before trying ski touring – you'll get a lot more out of it that way around!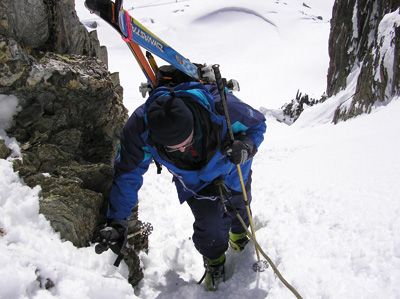 Level 3 – Improving Off Piste Skier. Enjoy black runs and the kind of tracked out off piste terrain found around many big resorts, but you haven't skied too much in properly deep snow without a base to it yet.
Like ly to say:'I'd like to ski well in powder/link lots of short radius turns/go ski touring'.
Our Advice:An Off Piste Skiing Course is highly recommended. If you'd like to try ski touring, then do either an intro ski touring course or an intro level ski tour.
Level 4 – Confirmed Off Piste Skier. You can put down a reasonable set of tracks in powder, but difficult snow types – heavy wet snow, crusts, poor visibility or 40dg slopes can all cause problems (though you can cope with them safely, if not elegantly!).
Like ly to say:'I'd like to handle difficult snow/steep slopes more confidently in better style'.
Our Advice:Off piste coaching still useful. Intermediate off piste weeks are at your level too. If you want to get into ski touring, try a touring course or intro level ski tour. If you're an established ski mountaineer, then intermediate level tours are generally suitable.
Level 5 – Advanced Off Piste Skier. Can put turns in through heavier snow and on icy 40dg slopes, but difficult breakable crusts and skiing a fresh track off piste in zero visibility are still somewhat challenging!.
Like ly to say:I've been skiing ten/twenty years – I'd like to do your '……' tour.
Our Advice:You will enjoy our advanced level trips. If you are new to touring – then you could do a Haute Route with a day or two of skills training beforehand (but don't overlook the physical fitness needed as well). Mileage is the best way to improve your ability level.
Level 6 – Expert Off Piste Skier. Can ski all snow types including crusts in control and are happy on slopes of 45dg or when putting in a fresh track in zero vis.
Like ly to say:'Bring it on…'.
Our Advice:Stay strong – and may the force be with you… Advanced level trips and ski expeditions are the way forward.